Since this is the first school year that Showbie has the student portfolio feature, we wanted to share some great tips from teachers on how you can use it to wrap up your year.
Since launching Showbie's student portfolio, we've had the chance to talk to several teachers about how they're using it in their classrooms, including why it's so important, when it's important — and what its long term effects can be.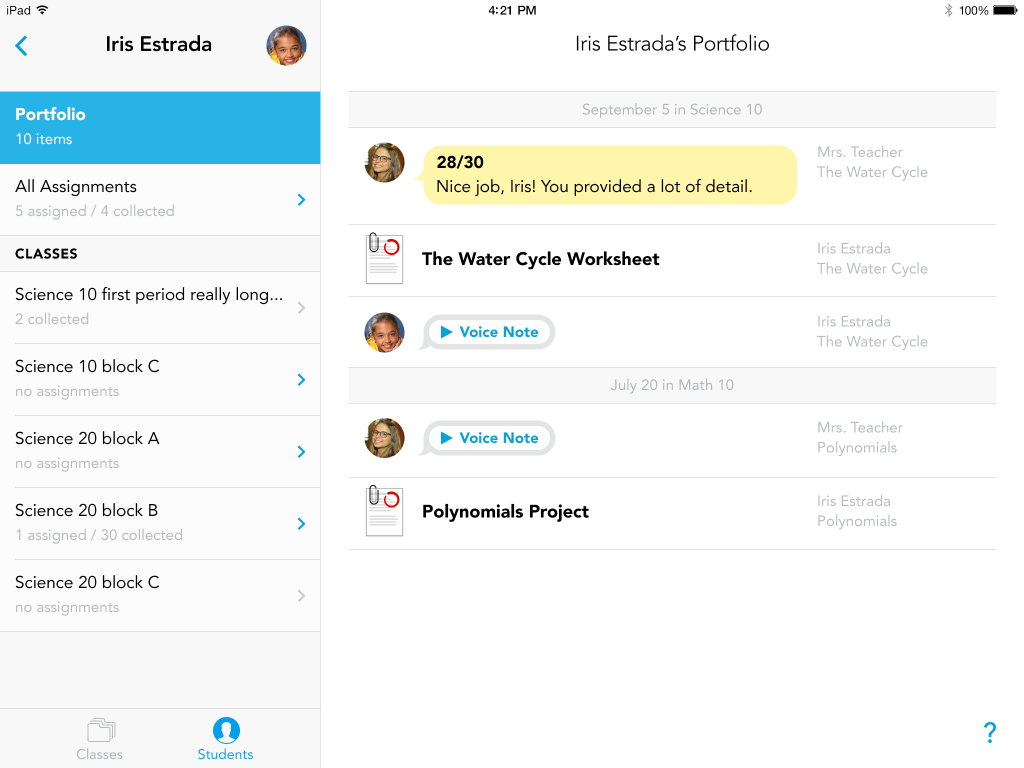 Here are four easy ways you can start using Showbie's portfolio feature to your advantage as your school year is wrapping up:
1. Demonstrate & Assess Progress at the End of the School Year
One of the student portfolio's best qualities is that it allows you to look back on a chronological list of student work as the school year progresses. This means teachers and students can gain a quick understanding of student development and progress.
"Azle's teachers love portfolio. At the end of the school year, teachers will make a note card with information on that student for their next teacher," explains Amy Tong, ICT Specialist for the Azle district in Texas.
Another fantastic way to utilize year-end student portfolios comes from St. John's Prep educator Elizabeth Solomon, who Tweeted about instructing her students to use their saved portfolio assignments to help prepare and study for final exams, an amazing way to keep study materials organized for students:
Using the #portfolio function of @showbie for students to keep review materials for the #finalexam. #sjp1to1 @KerryHawk02 @JulieCremin

— Elizabeth Solomon (@MagistraSolomon) May 3, 2016
Additionally, teachers and students can demonstrate progress to parents to give them an idea of how their children have developed from start to finish in their grade.
As long as students have the same Showbie login, they can carry over their student portfolio materials year over year.
"When teachers go into parent meetings, they have a base of work that demonstrates a session over time," Amy explains. "When they start adding grades, they can use that portfolio to really assess that student's development over time."
2. Have Students Reflect on Their Progress
Portfolio content is highly valuable for students. It allows them to reflect on their own development, and see a snapshot of where they started vs. where they ended up.
Teachers like RoxyGirlTeacher on Twitter are encouraging students to add reflection entries along with portfolio content so that students can assess each portfolio item and what they felt they accomplished when they completed it.
My @Showbie "A Letter to Myself" End of the Quarter Reflection Template. ⭐️ https://t.co/YhyzlUmMJ3 ⭐️ pic.twitter.com/YPdbG3qwM7

— Rockstar MathTeacher (@RoxyGirlTeacher) March 22, 2016
You can take this a step further by having students reflect on their year-long progress at the end of the school year. Year-end reflections also give students a confidence boost by giving them a snapshot of all the work they put into their school year.
3. Keep Work for Years to Come
"Students can keep the same Showbie login year after year, and they can carry their portfolio with them as they progress through grades," explains Amy. "Then they have a base of work that isn't just a few weeks or a year, but a session over time."
EdTech news, curated for you.
Get Showbie's latest updates, tips and edtech roundup delivered monthly.
As long as students have the same Showbie login, they can keep their portfolio additions. This is helpful for new teachers, but it also allows students to keep creative or exemplary work.
"Students are able to get so creative on school devices using apps to make movies and more. Generally, at the end of the school year, iPads are wiped clean for the next classroom," Amy says.
With Showbie's portfolio, students can store creative and exemplary work somewhere safe for years to come.
4. Have a Portfolio Plan for the next School Year
Perhaps the best student portfolio advice for the end of this school year is to have a plan going into the next school year. Since Showbie's portfolio was introduced partway through the year, many teachers didn't get the chance to try it out using a specific strategy.
Next year, teachers will be able to set up a strategy for what items they'll add to their portfolio and how they'll add them. Based on our suggestions above, it's good to start thinking of how what you're collecting in portfolio will impact the end of the school year, as well as parental involvement.
Our advice? Don't be afraid to add items to student portfolios. It's much easier to go through and un-add items than it is to go back through assignments to figure out what should and shouldn't be there. It's also a good idea to add as you work, so that assignments are fresh in students' and teachers' minds when they add them.
And remember — adding items to portfolios is easy! You can also read about the visibility options available with student portfolios.
Did you know adding student assignments to their Showbie portfolio is as easy as putting a gold star on it? 🌟https://t.co/1Ue9O4g4mr

— Showbie (@Showbie) March 17, 2016
Are you using Showbie's student portfolio to help wrap up your school year? We'd love to share your advice.