Showbie's voice notes are very useful for voice assessment, but we've received feedback that the recording meter can sometimes take up too much of the screen when students are recording while reading longer PDFs in Showbie.
To help your students record longer vocal assessments without having the recording meter get in the way, we have a workaround that involves using the app QuickVoice.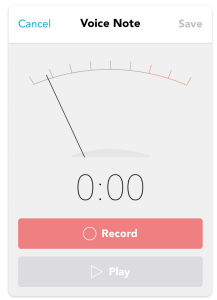 Like most iPad apps, QuickVoice recordings can be easily shared into Showbie. QuickVoice can also record while you have Showbie open, allowing students to read from PDFs uploaded into Showbie without worrying about being disrupted.
Simply turn on Quickvoice, start recording, and switch over to Showbie on your device to start reading. When students are done, they can stop recording in QuickVoice and easily upload their file into their Showbie assignment folder.
Want to see just how easy it is? Check out this video created by Showbie team member Eric so you can get started. Happy recording!
Have students record themselves reading using Showbie and Quickvoice from Showbie on Vimeo.