Last week I had the privilege of holding down the Showbie booth at BETT 2016, along with four of my Showbie colleagues, and UK education trainer extraordinaire Joe Moretti. Over the course of four days we spoke to hundreds of educators, school administrators, and Showbie customers. When demoing, I couldn't resist reaching for our brand new iPad Pro, running the latest version of Showbie.
Showbie 2.5 is all about delivering the best possible Showbie experience on newer Apple devices like iPad Pro, iPad Air 2, and iPad Mini 4. I'm not usually one to line up at the Apple store on launch day, but if you're lucky enough to try out Showbie on iPad Pro with Apple Pencil – you're probably going to want one. Read on for all the juicy details!
Large Screen and Keyboard Support
We've optimized Showbie to take advantage of the iPad Pro's huge screen. You'll be able to see more content on the screen at once, whether you're looking at class lists, assignment folders, or student work. The iPad Pro screen is large enough that you can view an assignment folder in portrait orientation, with your student list beside it. If you have the Smart Keyboard, you get a full view of assignment folders and student documents while providing typed feedback, because the on-screen keyboard doesn't need to be presented.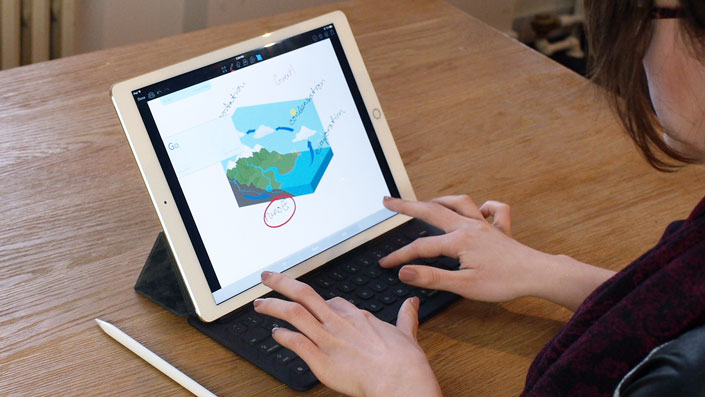 Split View Multitasking
If you have a newer iPad, you can use Split Screen Multitasking to use Showbie and another app simultaneously, side by side. Maybe you'd like to consult a grading rubric while annotating and grading student work in Showbie, or have your students browse online resources while working on their assignment. With iOS9 and Showbie, the types of activities that used to necessitate a desktop computer are now within reach on your tablet.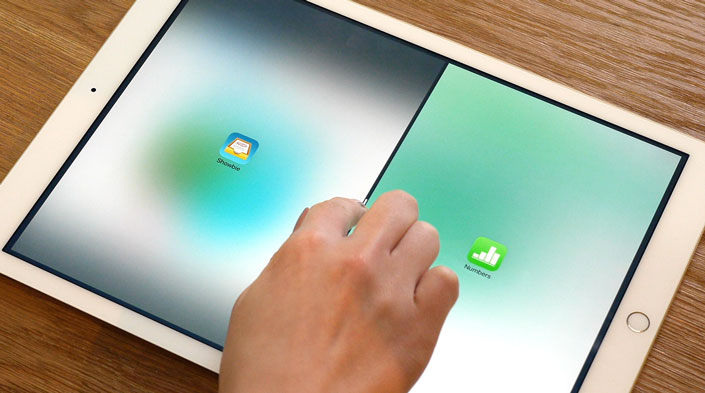 Apple Pencil with Palm Rejection
We've made big progress already this year when it comes to improving the quality of Showbie annotations. Compared to last year they're smoother and more accurate, and the annotation tool is faster and easier to use. But annotation accuracy past a certain point is beyond our control – it comes down to the accuracy of the input device. Not to put too fine a point on it, but the Apple Pencil makes Showbie annotations feel virtually as accurate and natural as writing on a piece of paper. We've also enabled palm rejection with Apple Pencil, so feel free to rest your palm on the iPad Pro's big screen, just as you would with a notepad or workbook.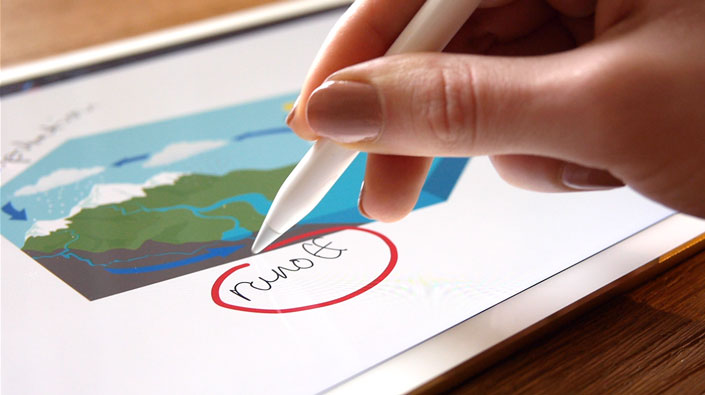 Other Improvements
Improved VoiceOver Support
We've gone over Showbie with a fine-toothed comb to make sure the app is fully accessible via iOS's VoiceOver feature. If your class includes students with visual impairments, this means they have the same access to Showbie as everyone else.
Improved Language Support
iOS 9 brought changes to the way RTL (right-to-left) languages are handled on iPad. We've made sure to keep pace with these updates, so the Showbie user interface is now completely adaptive to the native text direction of your preferred language. If you use Showbie in Arabic, for example, everything in the app flows from the right-hand side of your screen to be consistent with the direction of reading.
Parent Access Adjustments
We launched Showbie for Parents late last year, and it has been great to hear from trailblazing teachers excited to include parents in their Showbie classes. We've also heard from school administrators who want to make sure they can roll out parent access at their own pace. To this end we've made a small adjustment to Parent Access for Showbie Pro teachers. Parent Access will now be turned off by default when you create a new class, meaning that teachers and administrators can be confident that parents won't get access to classes and assignments before everyone's ready.
If you get a chance to try Showbie on iPad Pro, let us know what you think! What's the Apple Pencil like? Have you found a particularly useful application for Split View multitasking? We'd love to hear your feedback and to share your ideas with other Showbie teachers. And as always, stay tuned for more updates soon!