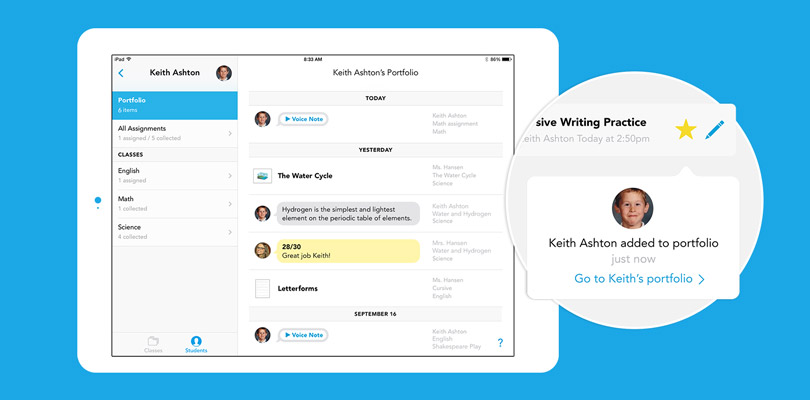 Welcome back to school! To those of you who are new to Showbie, nice to meet you. And to those of you returning to Showbie after your break, we're happy to see you again. We've been busy over the summer, and we hope you've been enjoying some of the improvements we've made recently, including the Showbie Gradebook, Student Search, Pinned Voice Notes, a new way to try Showbie Pro and more.
This week we're excited to announce Showbie 2.3, a major update that gives Showbie Pro teachers and students the ability to curate student portfolios right within Showbie. This update also includes the ability to copy and reuse entire classes with the Copy Class feature, as well as the ability to assign open-ended, 'no due date' assignments. Read on to get all the details!
Student Portfolios Made Easy
Digital student portfolios are a great way to showcase your students' best work, share it with stakeholders in their learning (such as parents and school staff), show evidence of their progress over time, and encourage the development self-reflection and evaluation skills.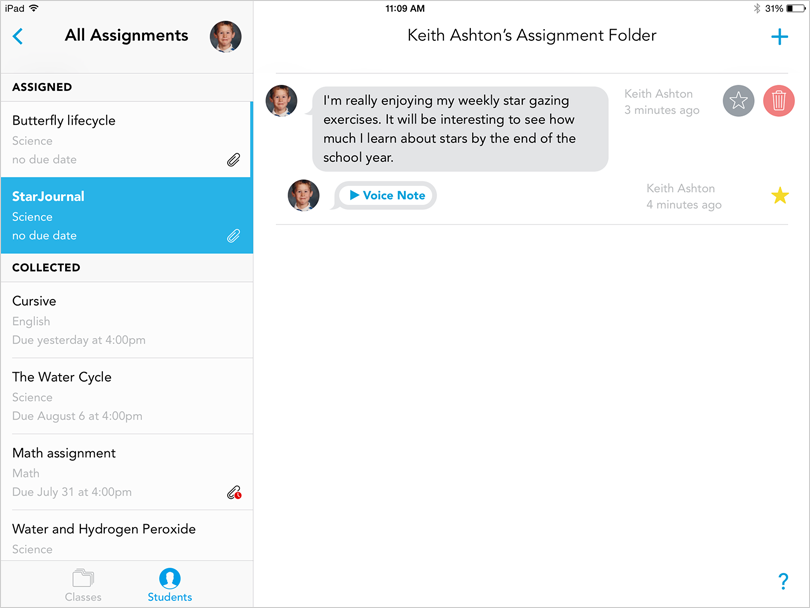 Our teachers have told us that they're already using tools in addition to Showbie to create student portfolios, or figuring out ways to make student portfolios work using Showbie's existing features. With so much student work being shared through Showbie already, an integrated portfolio feature has the potential to make the process easier and more efficient, saving time for teachers and boosting student engagement. With Showbie Pro, anything from an assignment folder can be 'starred' with a single tap, instantly adding it to your student's personal portfolio. You can easily add multiple items while viewing a student's assignment folder, or even add an individual student's work from the document viewer while quick-marking.
The Portfolio Timeline
Since many schools already use Showbie, students and teachers will not have to learn how to use another app or have to go to another app to upload their content into a digital portfolio.— Kirsten Paino, Lead Technology Integrator, Avenues: The World School
Anything can be added to a student's portfolio, including files from other apps, documents with Showbie annotations, grades, comments, and voice notes. Once an item has been starred, it appears in the portfolio timeline, starting with the most recent additions at the top. Each item is labelled with its source class and assignment, and there are shortcuts to easily navigate between a student portfolio and the source assignment folder while viewing portfolio items.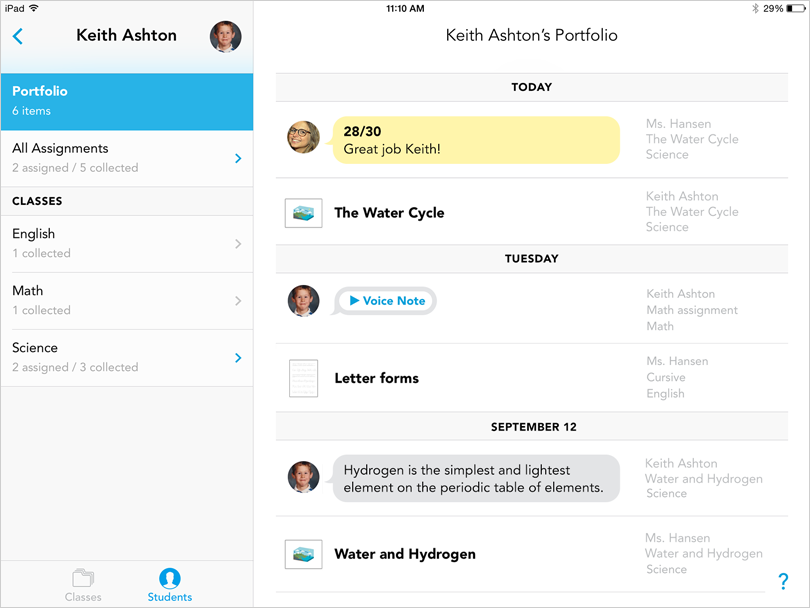 Work added to the portfolio will continue to be available for you and your students to review even after the original classes and assignments have been archived. With a Showbie portfolio you'll be able to see a summary of student progress over time, even as they traverse semesters, school years and grades.
Portfolio items are filtered automatically depending on who's viewing the portfolio. Your students will see items from all of their classes and teachers, and you'll be presented with student work from the classes you teach. Next time a parent-teacher conference rolls around, you can come prepared with a curated, relevant selection of student work, feedback, and assessment to discuss with parents – without a lot of extra effort spent organizing and preparing.
Student-led Portfolio Curation
The Showbie digital portfolio will also allow students to carry on their digital portfolio from grade to grade. This is a HUGE and IMPORTANT feature that most digital portfolio apps are missing.— Kirsten Paino, Lead Technology Integrator, Avenues: The World School
As a teacher, you're not the only one who can add work to a student portfolio. With the Include in Portfolio setting enabled for your class, your students will be able to curate their portfolios independently. You remain in control with the ability to override student changes and make the final call on what's included. Whether you or your student adds work to the portfolio, you'll each be kept in the loop with instant email and push notifications.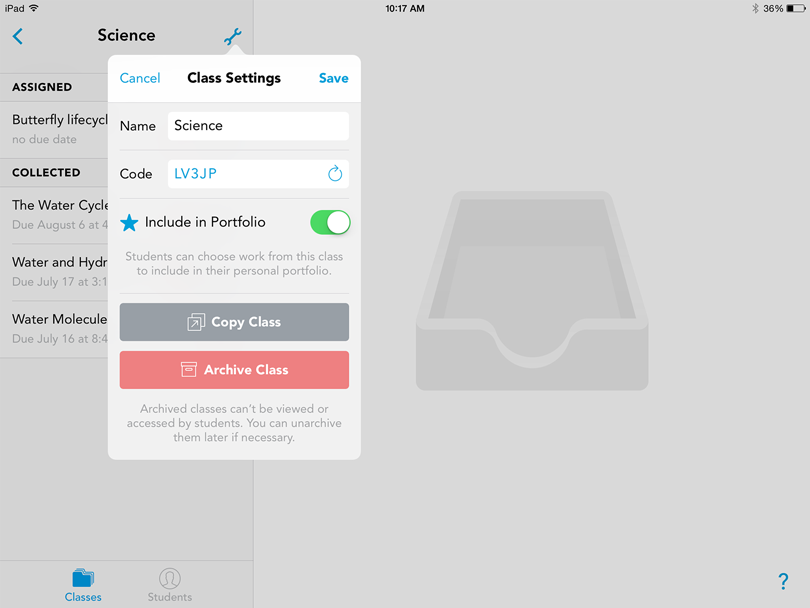 Student portfolios are available as part of Showbie Pro. Try them out with your students and let us know what you think!
Copying & Reusing Classes
Many of you have asked for a way to easily reuse last year's or last semester's assignment content with your next group of students, so in Showbie 2.3 we've added the ability to copy an entire class of assignments.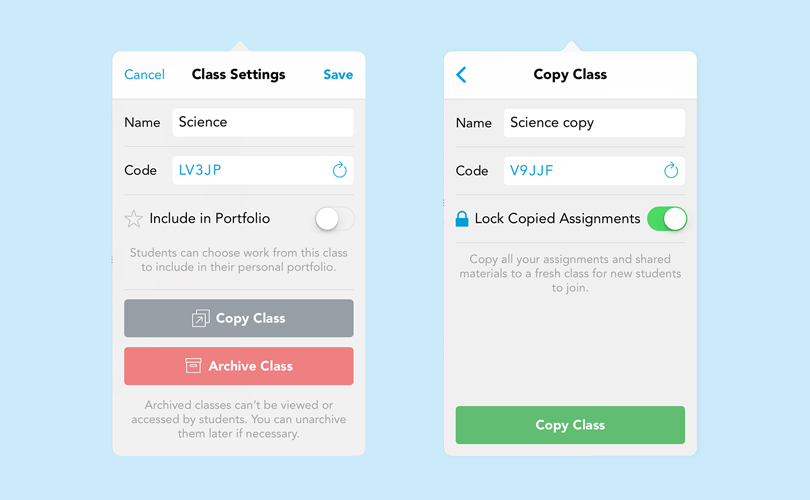 When you copy a class, you get a new class with all the assignments, shared folder materials, and shared folder annotations from the original, ready for your new students to join. Any of the original assignment due dates that have passed are removed from the new assignments, so you can schedule new due dates as your class schedule progresses. If you have Showbie Pro, you can also choose to lock all copied assignments, so you can release them to your new students at your own pace. Copy Class is available as part of both Showbie Basic and Showbie Pro.
Open-ended Assignments
Now when you create or edit assignments in Showbie, you can choose to remove the due date. These assignments will always appear at the bottom of the Assigned section for you and your students. No-due-date assignments are useful for long-term projects or ongoing tasks, or if you just want to let your students know what a cool and easygoing teacher you are.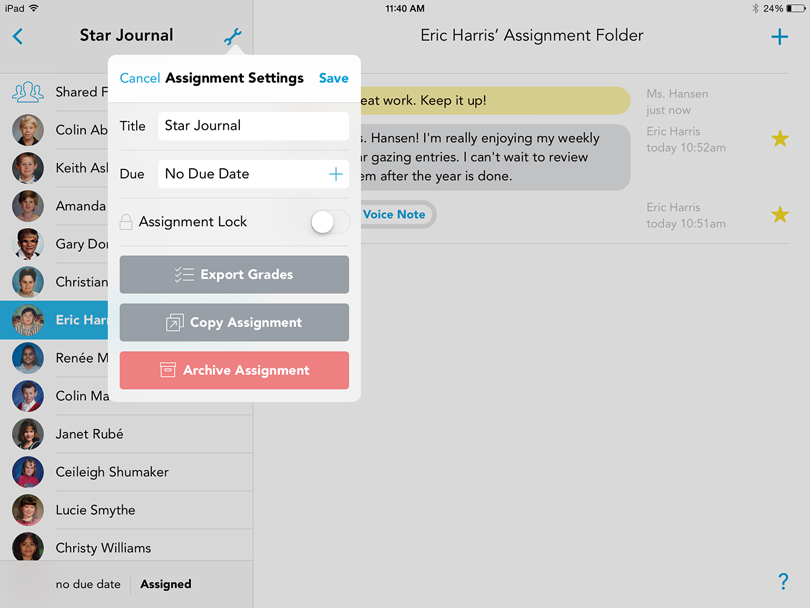 All that, plus we've got the app tuned up and ready for iOS 9. Not bad for mid-September! Grab the update from the app store today, and don't hesitate to share your comments or suggestions with us. From all of us here at Showbie, have a great school year!