For Digital Learning Specialist Kerry Gallagher, it's not just about technology, it's all about finding the right ways to use it. Her philosophy is that technology is at its most powerful when users deeply understand it and use it in ways that enhance their individual learning, and creating digital citizenship is the way to achieve this.
Kerry and her colleague Julie Cremin recently began introducing the idea of digital citizenship to St. John Prep's teachers and students, realizing that though it will be a long learning curve, it's essential to helping teachers and students learn how to navigate in an increasingly technological world.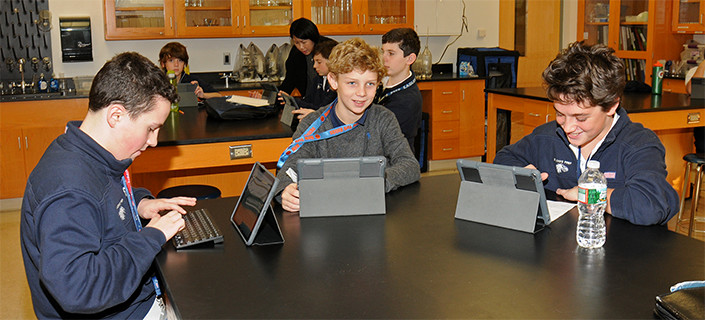 Digital citizenship means learning how to use technology in ways that are appropriate, responsible and intelligent. Kerry and Julie factor in topics such as effective communication, personal branding, technology etiquette, privacy & safety, and acting as a responsible contributor & consumer of media.
"There's just so much more they can do to demonstrate their learning with technology, and every student feels like they can contribute in a unique way."
"Instead of calling out students who are distracted by taking their device away, teach them how they can manage the entertainment part of technology with the academic or professional part of it," Kerry explains.
"If we don't teach them how to manage this now, they won't know how to manage this later on in life. It's a territory that makes teachers uncomfortable because a lot of them didn't grow up with technology, so they aren't sure what it looks like in the classroom. We're encouraging teachers to get to a point where their students can self-regulate when technology is appropriate and when it isn't appropriate. It takes work to get there, but we're determined to make that journey with our teachers and students."
The Benefits of Being a Digital Citizen
Examples that support Kerry's push toward digital citizenship include her observations that technology has helped students who are shy or more introverted come out of their shell and communicate more effectively. She has also observed that group projects are greatly simplified from what they used to be — and are even more enjoyable.
"We've all been in classes with introverted students who would never raise their hands, but they have brilliant ideas that tech allows them to express. They're much more comfortable with text messages than raising their hand. Also, group projects used to be difficult for students to manage, and now they're a much more pleasant experience. It's clear who's doing what when you collaborate online, and it's easy to separate out each student's role in the project and they don't have to go over to each other's houses all the time the way they used to."
Turning Teachers into Digital Citizens
One of the ways Kerry and Julie are helping their school with digital citizenship is by encouraging teachers to explore and personalize their own education technology. For example, while all teachers at St. John's Prep are trained on Showbie, many use it in different ways, tailoring it to their teaching style, grade level and subject matter.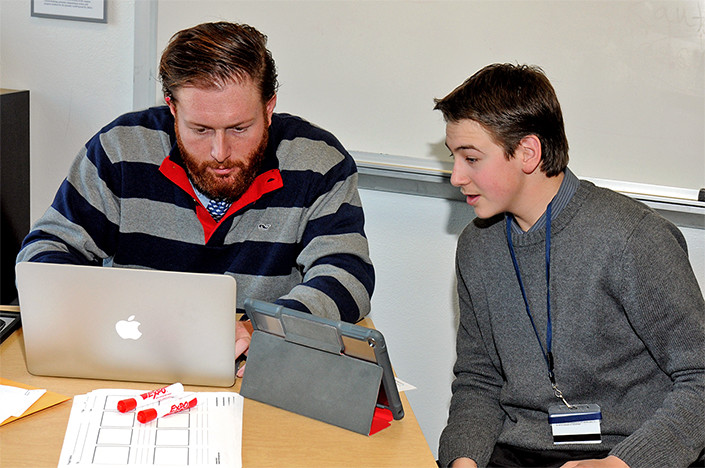 "Not every teacher is using Showbie the same way, and that's perfectly ok. Some are using it to push resources out to kids, some are simply collecting and giving feedback. I have world language teachers who are using it primarily for audio assessments in the form of voice notes. It's pretty incredible that they're using the same app for all these different purposes."
Additionally, Kerry and Julie say that even previously tech-shy teachers are reaching out to them with ideas on how they can use technology in their classroom.
"There are teachers who a year or so ago would have never wanted to use technology this way because they liked the model they were using, and technology seemed like a distraction. Now they're thinking of trying out new things and looking for support, so we're definitely turning a corner. You just have find the right fit for that teacher and their students."
Creating More Engaged Students
Kerry admits she's also been surprised by her students' excitement over trying out new technology in classrooms, and how they'll tell her about apps that she would have never known about.
"If a student has an app that they like and want to use it as an alternative to what I suggested, I'm always curious to know more about it. I do research about its privacy and ask the student if they've used it before. If the student wants to use the app because they could do something that wasn't possible before, and if it makes them more excited about the project, who am I to say no?"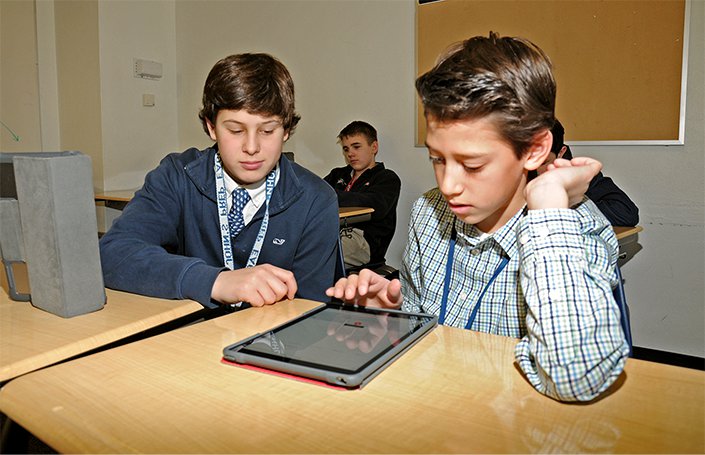 Ultimately, Kerry wants to educate teachers and students to use technology so that they can learn and collaborate more, in addition to streamlining classwork by going paperless. With Kerry's philosophy in mind, one gets the impression that she's not far off from helping to usher in one of the first generations of digital citizens in the classroom.
"I think the pedagogy is that paperless technology provides students and teachers with an opportunity to collaborate in ways they never could before. On paper, students can demonstrate learning by writing, reading, colouring and drawing, but if they're not limited by paper they can record their voice talking, create music, create a video, or even develop an animation — there's just so much more they can do to demonstrate their learning with technology, and every student feels like they can contribute in a unique way."
You can follow Kerry on Twitter and check out her blog here.