Being in the digital space means Showbie can facilitate more than just worksheets — its ability to share work from many sources makes it ideal for creative assignments like photography.
St Leonards CofE Primary School in Lancashire recently taught it's year five and six students all about how photos can be altered digitally. This allowed them to learn more about how photo alterations can distort our perceptions of beauty and health.
Children used @Showbie and @photoshop to capture, edit and share their photographs. pic.twitter.com/0QCp9O9R5p

— St Leonards CofE (@StLeonardsCofEP) December 9, 2015
I've never seen technology used so well in a classroom, even when working with much older students.
ICT Coordinator Matthew Gaukroger and Manchester based photographer Andrew Brooks recently spoke to us about this photography project. They had a full day workshop where they encouraged students to be creative using Adobe Photoshop Express and Showbie.
"I asked them to think about composition, light and textures as we photographed on iPads around the school grounds. The children captured atmospheric shots of trees and clouds, and abstract details from lines on the floor of the school playground, plus details from fruit and vegetables that Matthew had brought. Then they edited their images as I worked my way around the room, giving feedback and encouragement," Andrew explains.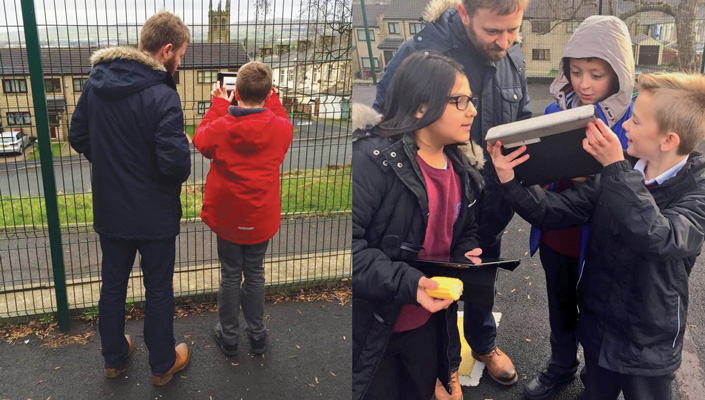 After they altered their photos in Adobe Express, the students uploaded them into Showbie where they were instantly shared with the rest of the class.
"At the end of the session Matthew quickly got them sharing their screens and favourite images on the main projector in the classroom using Showbie. I was able to compare their work to my own images."
Andrew has worked with different Primary Schools and High Schools on similar projects and was surprised by Showbie's level of ease.

"I've never seen technology used so well in a classroom, even when working with much older students. The idea that we could display work right away for all to see is amazing, and it felt like the session had a very real conclusion."
Once they were done, each student had one of their images printed to take home or demonstrate as a real piece of art that they created themselves.
Next up for Matthew? His school is planning on introducing parents through Showbie's parent access feature, something he's excited about implementing.
To learn more about parent access, including how to control its privacy settings, we recently created a handy FAQ to help you.