Track Showbie Usage at your School with Admin Analytics
In most locations across the world, the COVID-19 pandemic has led to teachers having to reimagine learning like never before. Can you believe it's been almost an entire year since the initial lockdowns began? For many teachers, it's been a difficult time – but also one filled with resilience and innovation when it came to educating and supporting students online.
The pandemic lockdowns meant that many students weren't physically in class anymore, making it more difficult for Administrators to capture the full picture of teaching, learning, and student wellbeing within their school. Showbie Administrators began asking for additional  data, much more than was required before the pandemic, to help give them some additional insight.
That's why today, we're excited to launch our latest Showbie Pro Hybrid feature, Admin Analytics, available to Admin Analytics is Showbie's new dashboard that helps school administrators stay on top of important information and activity in regards to their students, teachers and Showbie account. The data is refreshed every day, and you can access it from right within your Showbie Admin account.
This new dashboard helps administrators to:
Make Data-Driven Decisions to Improve Learning Outcomes
This new feature will give you insight into various usage statistics including being able to see how often students are accessing the platform, as well as viewing teacher usage and activity. Administrators can quickly and easily view engagement with colour coding.
Additional statistics available on the Admin Analytics dashboard include:
Active teachers and students in the last 30 days

'L

ast active' dates for students (to help identify students who may need extra assistance or support with any technical issues)

Class information (including class activities and rosters)

Teacher and student contributions

Parent sign ups
When looking at a table, you can use the "View all…" option to see, sort, filter and download, the full list of data: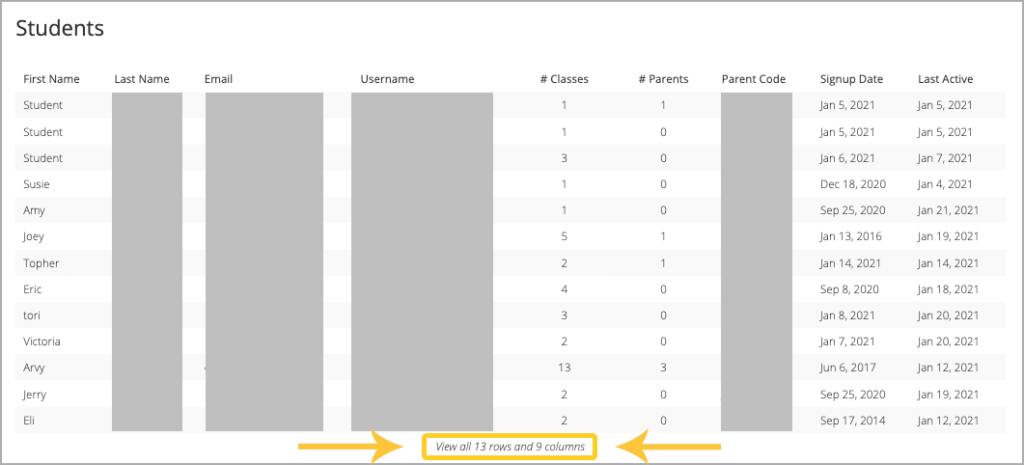 The shift to data-driven education is becoming more and more prominent, especially with the increase in remote and hybrid learning. We've spoken with a number of district leaders, school leaders, and teachers who are all beginning to work toward the common goal of improving learning outcomes for students with the help of data provided to them by their technology platforms.
The Admin Analytics dashboard can help provide insightful information about your school, district, or Multi Academy Trust, for example:
Tracking the engagement of students, week to week or month over month, by tracking the percentage of students in a school who are accessing Showbie on a regular basis. This may help pinpoint issues, for example, are children losing motivation? Is the teacher providing engaging content and interacting enough with students?

Looking at teacher engagement and tracking – for example which teachers are using the platform most often? Or how many are regular users? This can help school leaders know that they're maximizing their technology investment. You can also pinpoint if a teacher is having difficulty with the platform, by comparing engagement levels across teachers. Administrators can identify the most engaged teachers and pair them up with teachers who may need additional PD or assistance.

Districts or Multi Academy Trusts, can also compare these same statistics across multiple schools giving them the ability to compare schools.
The list above showcases just some of the many ways this data can be used to help Showbie Administrators better capture what's happening within their school, district or MAT.
Quickly and easily troubleshoot issues with your Showbie account.
The Admin Analytics dashboard now gives you access to view more account information than previously possible – such as:
The start and end dates of your subscription
Information on your school membership (teacher, student, parent accounts)
Socrative license information
This data will help Showbie administrators troubleshoot issues immediately when they arise. Usernames, class codes and class membership lists are readily available to help resolve common issues, without having to wait for any additional support from Showbie.
Showbie Administrators will also be able to identify which teachers, students, or parents have (or have not) signed up for a Showbie account, so you can ensure everyone is able to access the platform and provide additional support if necessary.
To access the dashboard, simply log in to your admin dashboard and click on 'Analytics'. If you are logging in as part of a district, you will have to choose an individual school in order to view the data.

This feature is only available on a Showbie Pro Hybrid subscription. For full details on how to use this brand new feature, please visit our Support Article here.