The Showbie team is doing everything in its power to help you through this challenging time. As we work to provide continued service to the rapidly increasing number of schools, teachers, and students affected by COVID-19 mitigation measures, we will continue to share up-to-date information here.
Wednesday, March 24 at 4:40pm GMT
We launched a new Live System Status Page to track live system status. Please use this page going forward for the latest updates on Showbie services. Thank you for your continued patience and understanding.
Friday, March 20 at 10:45pm GMT
At approximately 11:15pm GMT, we'll be performing system updates. Showbie will be unavailable during this time for about 30 minutes. UPDATE: Maintenance is taking longer than anticipated. We expect another 30 minutes until we're online again. Sorry for the inconvenience.
Friday, March 20 at 4:30pm GMT
The update indicators in Showbie are causing strain on our servers. Because of this, the update indicator symbols (the blue bar, arrows, and pencil) are disabled until further notice to ensure that Showbie runs smoothly.
Friday, March 20 at 6:45am GMT
Friday morning Showbie had a 12 minute outage. Systems were quickly restored to normal by our team. View our uptime and current system status here.
Wednesday, March 18 at 11:13am GMT
No issues have been reported this morning. The system has been running smoothly despite another record day of utilization at 5% over Tuesday's levels.
Wednesday, March 18 at 2:48am GMT
On Tuesday, Showbie system activity continued to climb by a further 20% over Monday's levels. Our systems were stable throughout the day, with the exception of a period of roughly ten minutes at 07:46 GMT. Utilization peaked at 09:00 GMT, with over 4400 posts added to Showbie in a one-minute interval.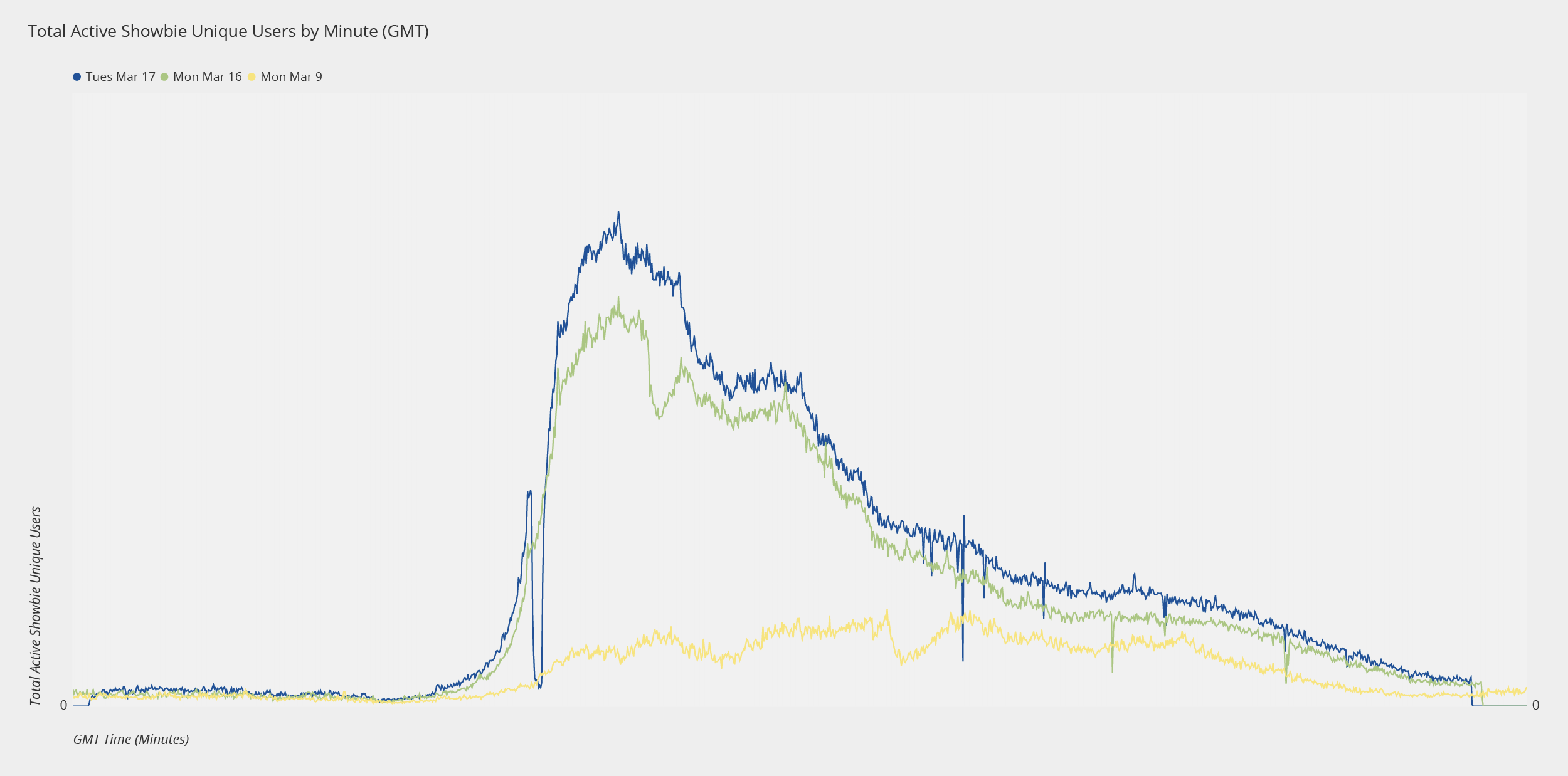 As we gain confidence in the ability of our improved service architecture to reliably support the current levels of activity, we are turning our attention to the following priorities:
Optimizing and re-enabling features that had previously been disabled in order to cope with high system load.
Proactively improving our system architecture to support anticipated future demand.
Working through our backlog of inquiries and requests for Showbie Pro and Socrative Pro licenses. Please have patience, we'll get back to you very soon!
Listening to your feedback, and considering how we might improve our products in the near term to better support distance learning.
On the first point, we have two specific updates to share:
Scheduled assignment access changes and assignment reminders, which had previously been disabled during peak periods, have now been permanently re-enabled.
For now, auditor oversight accounts will continue to be disabled between 06:00 – 16:00 GMT. We'll automatically re-enable auditor accounts daily outside of these peak hours.
Thanks for all your understanding and support. It is truly an inspiration to witness the resilience and innovation displayed by teachers and students in these difficult circumstances. We're proud to be a part of your new distance learning practice.
Tuesday, March 17 at 7:50am GMT
All systems are back online.
Tuesday, March 17 at 7:46am GMT
You may be experiencing high latency (slower speed) with Showbie due to the demand. We are working on this issue now.
Monday, March 16 at 10:26pm GMT
Showbie will be offline for 1 hour starting at 11:15pm GMT for database upgrades. Sorry for the inconvenience.
Monday, March 16
Starting around 07:00 GMT, Showbie experienced an unprecedented surge of teacher and student activity. By 09:00 GMT, we saw 9x more system activity and 9x more simultaneous teachers and students than our previous busiest day on record.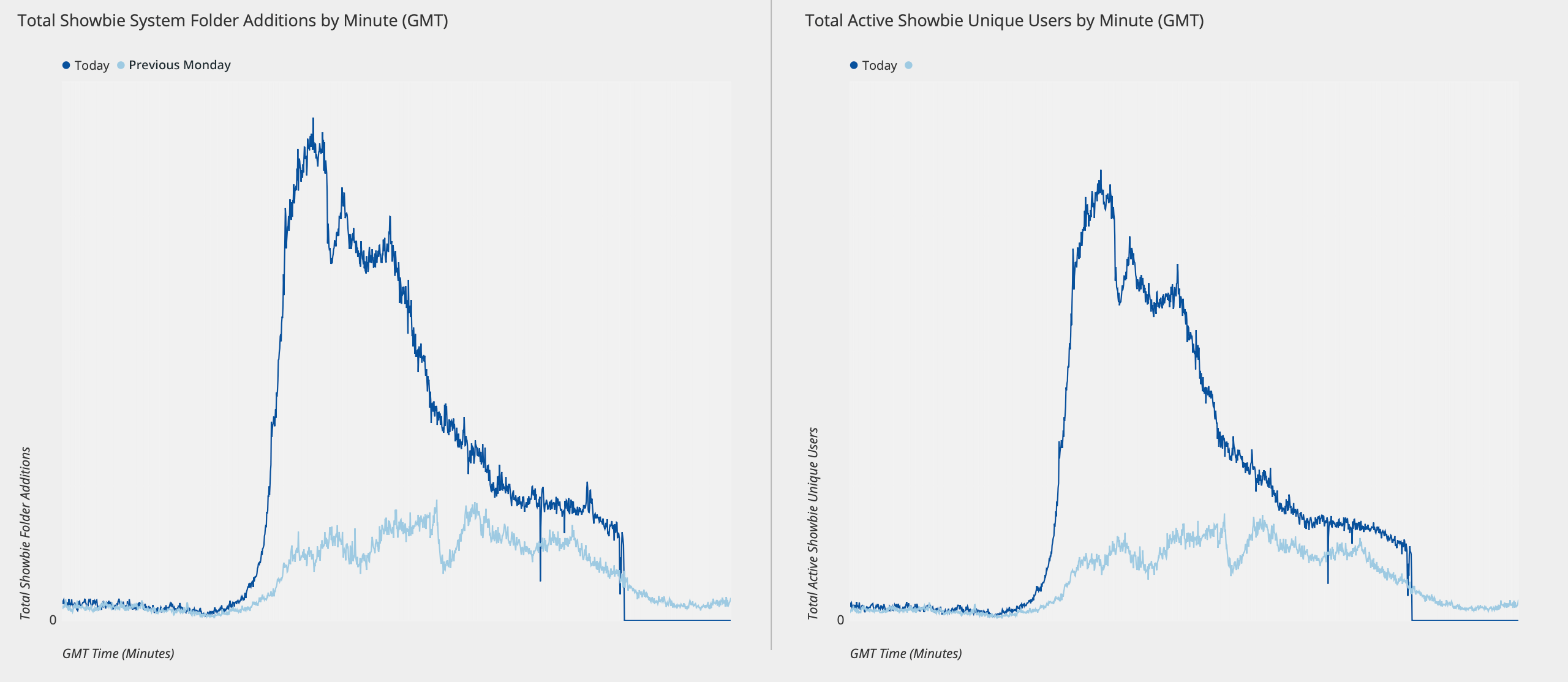 By the end of our peak period on Monday, we had served approximately 1/3 of the entire year 1-10 teacher and student population in Norway.
As Showbie is headquartered in Western Canada, many members of our team began work Sunday at midnight (MDT) to coincide with European school hours. Our operations team monitored and maintained cloud infrastructure in real-time while our support staff were on hand to assist the massive influx of teachers.
Throughout the peak period, we were forced to selectively disable certain features such as auditor accounts, unread indicators, live updates, and some scheduled notifications, in order to keep the core system running smoothly.
We will continue to provide extended support hours and system monitoring as this extraordinary situation continues to unfold, and as more countries and classrooms join Norway in adopting distance learning due to COVID-19. We continue to invest in infrastructure improvements that will lead to improved performance and functionality during peak periods over the coming days and weeks.
Saturday, March 14 to Sunday, March 15
Knowing that Monday would bring another huge increase in product use, our team worked around the clock to improve the capacity of our cloud systems and to coordinate a customer support plan.
Friday, March 13
Showbie was taken offline from 07:34 GMT to 13:26 GMT, due to a dramatic and unexpected surge in utilization. The main cause of the surge is Norway's emergency decision to close schools and move all students to distance learning, effective Friday morning. Before Showbie went offline, we observed global use 4x above normal levels.