Rolling out a 1:1 iPad initiative to 10,000+ students is no easy task. The small tech team in East Allen County Schools made it work for teachers, students, and parents by combining two powerful platforms.
Bringing Technology to EACS
In 2012, the East Allen County Schools (EACS) district in New Haven, Indiana, decided to change the way students and teachers used technology in the classroom. Previously, students only had limited access to shared computer labs, which prevented the students from fully merging technology with their daily workloads. However, the district knew that to prepare for college and future careers, students needed to use technology every day in the classroom. To focus on this goal, the district launched a new Blended Learning Initiative that emphasized using technology to deliver instruction and curriculum.
William Diehl, Director of Technology in year one, then Keith Madsen, Director of Technology for the district for the past four years, were responsible for creating a technology plan that augmented the Blended Learning Initiative in the schools. "A key component to incorporating technology into the curriculum was the adoption of 1:1 iPads for grades 4–12 and 1:4 iPads for K–3," Keith explains. "With individualized access to digital tools, students and teachers were able to execute the initiative and completely immerse themselves in a new technological reality."
Combining the Right Digital Tools
From the start of the Blended Learning Initiative, the district wanted to do more than just provide technology. Keith knew teachers wanted a user-friendly platform that would help them distribute assignments easily, reduce photocopying, and provide timely feedback to students. After some research on platforms, Keith found Showbie. Now, by combining Showbie with the district's learning management system, Canvas, which is used as a content storage system, the district is able to leverage the power of both platforms to store content and deliver it easily.
"Showbie has proven to be the fastest and easiest method to deliver course work between students and teachers," explains Keith. "Canvas and Showbie complement each other perfectly because parents, teachers, and students can now access full lesson plans as well as all individual graded assignments with the click of a button."
Now, even though it's not required, the majority of the district's 500+ teachers use Showbie.
"Everything about Showbie is so intuitive and easy to use, which is why it is so popular in the district," Keith says. "Without using Showbie as our primary classroom workflow app, I don't think teachers would have had such a seamless transition to blending digital tools into their daily curricula."
The blending of these two platforms has proved especially beneficial in the district's middle and high schools. Since Showbie is used by every teacher in these grades, when a student uploads an assignment to Showbie, the assignment is automatically delivered to the correct teacher. This is extremely helpful for these students because they juggle multiple subjects.
Teachers agree that Showbie improves classroom workflow by allowing them to provide feedback more quickly and to easily distribute assignments without having to visit the photocopier.
"Showbie is so user-friendly, and it has allowed my classroom to become almost completely paperless," says Melissa Fiedler, a high school English teacher. "With Showbie, students can easily submit their assignments, and I can give them instantaneous verbal and written feedback. Now, I just carry my iPad around instead of hundreds of papers."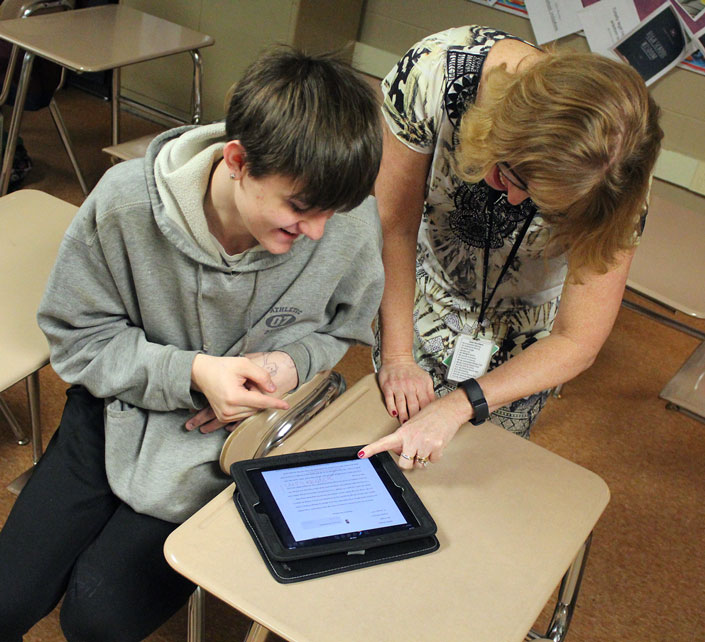 "I love that I can upload PowerPoints, provide videos of art techniques, and grade student artwork without paper," explains Melissa Czaja, an elementary school art teacher. "Students can simply upload their artwork to Showbie and I can grade it within the app to provide quick feedback."
This versatility and compatibility of Canvas and Showbie have also been highlighted in the district's use of "eLearning" days. The eLearning program is a digital instruction program used for inclement weather days (not uncommon in the state of Indiana). Instead of requiring students to make up missed class time throughout the year, EACS students can now log in to their iPads and complete daily assignments. Using Canvas, students see their teachers' daily lesson plans and at times view instructional videos as if they were in the classroom. Teachers then send student assignments using Showbie and communicate through the app in real time for instant verbal and written feedback. Using Canvas and Showbie to conduct eLearning days serves as a proxy for being in the classroom, and alleviates any disruptions in learning that may cause students to fall behind in their course work.
10,000+ iPads, Three Technology Staff – Making It Work
Once the district completed a successful initial iPad rollout at the start of the Blended Learning Initiative, EACS was ready to transition to a 1:1 student-to-device ratio for all 9,500 students enrolled in the 2016–17 school year. The district's technology staff (which includes Keith and two technology coaches) is charged with keeping educators up to date with the latest changes to their digital curricula, as well as providing a space where teachers can access training as needed. The team uses an online training platform that provides tutorials and videos to help teachers use their iPads and any new or heavily used apps. Keith and his team also create new tutorials throughout the year as new apps and technology require introduction.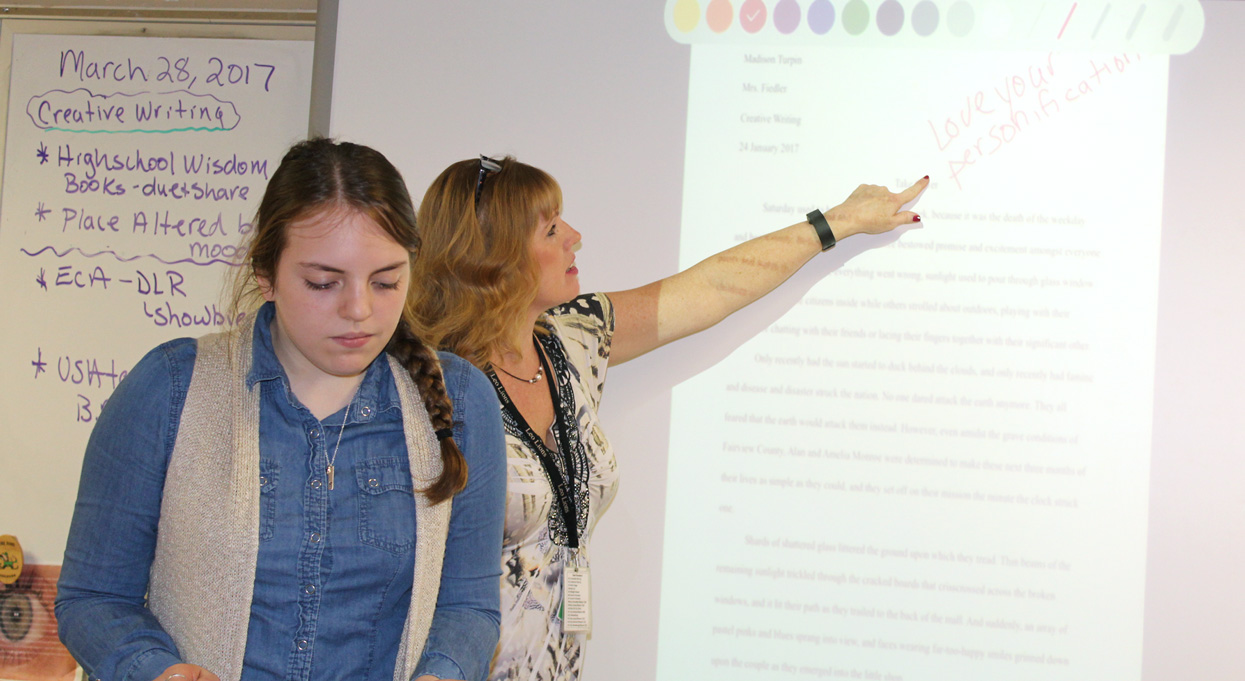 "With a tech team of three people for 14 schools, it was becoming increasingly difficult to individually address all students' and teachers' technology issues. While face-to-face interaction is still necessary, our training modules have addressed most of the daily questions we faced, and teachers can conduct their lesson plans without worrying about a technological hiccup interrupting class time," explains Keith.
Encouraging teachers to become proficient in the use of technology is extremely important to ensure successful implementation and mitigate classroom tech interruptions. That is why, through the district's "Gradual Release of Responsibility" program, the implementation of technology is encouraged through the use of specific tools that integrate technology into a teacher's curriculum in a manageable way.
The district's program provides an outline of five different applications for assigning and receiving course work, including Showbie. Because Showbie is highly intuitive and easy to use, the program utilizes the app as its main workflow tool. Rather than simply providing an introduction to Showbie, the program encourages teachers to delve into the app and find how they can implement features in their individual curricula through assigning and receiving course work over the school year.
"Showbie is so user-friendly, and it has allowed my classroom to become almost completely paperless."
Another element the technology team feels is essential to a successful technology implementation is ensuring that students are prepared to be good digital citizens. For this reason, EACS recently became one of just 20 districts in the country to obtain a Digital Citizenship Certificate through Common Sense Education. The certification program includes grade-differentiated lesson plans that address real technology challenges for teachers and students, such as preserving self-image and identity, preventing cyberbullying, and maintaining privacy and security online. The certification was important for Keith, as he explains, "Giving students the digital tools to prepare them for the future is important. But without explaining how to use them in a responsible way we cannot adequately prepare students for the harsh realities of the online world."
Creating a technologically proficient school district in five years is no small feat. Executing such a vast initiative would not be possible without using tools that everyone can understand. With careful planning and easy-to-use tools, Keith and his tech team were able to seamlessly digitize the EACS K–12 curriculum and prepare students for a safe, bright future in a technology-driven world.