Now that you're signed up to use Showbie, it's time to create a class. Let's get started!
Once logged in, tap the edit menu (wrench)
Then tap the +
Next, give your class a name by tapping the white box
Class Settings Details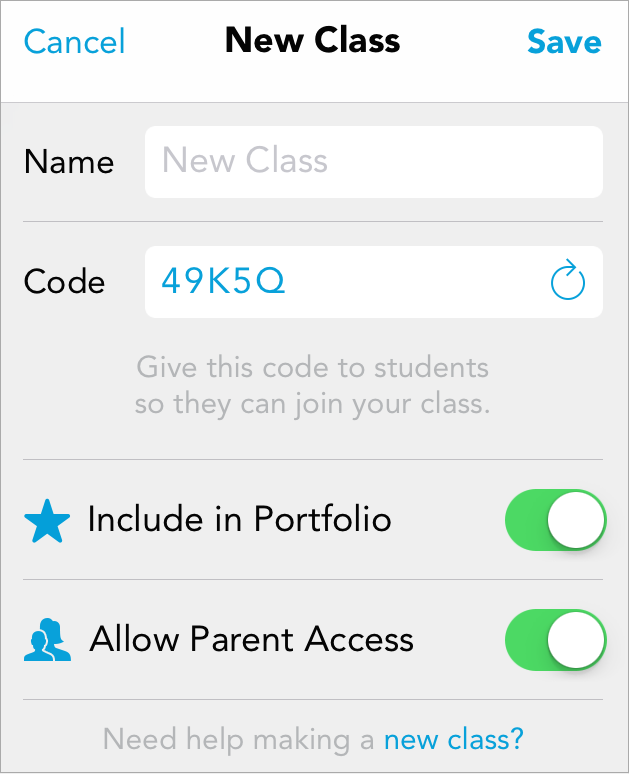 Name
Type the name of your class here – there's no character restrictions so you can even include emojis!
Code
Students will be able to use class codes to join your class in Showbie. Tap on the refresh arrow to generate a new class code. You'll receive an email of your class code but you can retrieve it in Showbie at any time. Learn more 
Include in Portfolio
Let students select work in this class to include in their portfolio. Teachers will be able to curate student portfolios regardless of this setting. Learn more
Allow Parent Access
Parents will be able to see their child's folder in this class. Otherwise, parents will only be able to see their child's work in this class if it is included in their child's portfolio. Learn more
Congratulations, you've created your first class in Showbie! Your students will need the class code to join your class, so feel free to make note of it now. The class code can be accessed later, so don't fret if you forget what it is! Now that your class is set up, check out this tutorial to learn how to create your first assignment.